The Woodlawn Resource Center, located on the first floor of The Burnham at Woodlawn Park on Cottage Grove Avenue, is an 8,000 square foot community center offering free social service support for residents and employment/workforce development opportunities for the entire community. The WRC staff has helped more than 400 people secure employment since it opened in 2015. The WRC is staffed by employment specialists from POAH's management company - POAH Communities - and social workers from SGA Youth and Family Services.
The WRC offers a range of skill-building, workforce certifications, and education programs including financial, employment and income support services, behavioral health, GED, college preparedness and digital literacy.
For an overview of services, download the Woodlawn Resource Center brochure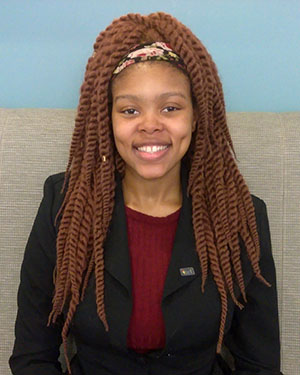 Resident Spotlight: Jasmine White
Jasmine is a shining example of how the Woodlawn Resource Center can help you at each stage of your life and career.
She first came to the WRC for help creating a resume, searching for jobs and preparing for interviews that landed her a part-time sales associate position. As she started saving money from her job, she worked with her financial coach at WRC to make a plan and start developing credit.
Jasmine's WRC employment coach then referred her to a teller training program, and after the 8-week certification course she was offfered a full-time bank teller position. The WRC team referred her to Dress for Success, which helped her build a professional wardrobe for her new job.
Based on outstanding performance at TCF Bank, Jasmine has received two pay increases and a full benefits package. She has opened checking and savings accounts and saved enough money to purchase a vehicle without having a loan. With the help of the WRC, she plans to continue saving and preparing for college, where she would like to study Human Resources.